As the title suggests, in contradiction with things that have been going on recently (i.e. ferguson, eric garner, tamir rice, and sadly, so on), I'm feeling very proactive and like I've been accomplishing a lot! A few things that I'm most proud of/stand out:
1.)
THE WANDERING COLLECTIVE
I'm officially a staff contributor for
The Wandering
!!! It's a visual and written art collective created by and created for teenagers, and I was drawn to it because of its diversity, and the collective just seems so natural and non-restrictive! I contacted its founder, Eva, and everything worked out so smoothly from there! Just the feeling of being a part of a collective and putting my stuff out there is exciting and gratifying, all in itself. Here's my first post, my birth, on The Wandering:
"There really was something about this night that felt so electric. You could feel it in the air—the electrons and photons combining together, turning us into warm spirits despite the frigid wind."
2.) FASHION STUFF
My Thanksgiving was crazy for a lot of reasons, but one reason that contributed to that is that my uncle introduced me to celebrity stylist,
J.Bolin
!!! He started his own magazine,
Denim Magazine
, and has styled people from Nene Leakes to Dianna freaking Ross and has even met Queen Bey's stylist :o I got put in contact with him because of my interest in fashion journalism--fashion magazines have been contacting Mr. Bolin with requests to do some bits and since he's more of a stylist, he sometimes needs people to write for him. I don't know where this may take me, but I'm still so incredibly EXCITED at the mere
opportunity.
Keep an eye out because you may just see me writing in the near future ;) Also, I'm very excited about this cardigan I got black friday shopping. I don't think pictures do it justice, but here it is <3
Shirt:Calvin Klein
Cardigan: Forever 21
Pants: Forever 21
Belt: Urban Outfitters
Happy Idiot

3.) JOURNALING x10!
As exhilarating as all of these other things are, sometimes nothing relaxes me more at the end of the day and makes me feel at ease like turning on some tunes and opening up this journal.


Usually I'm EXTREMELY casual about journaling, but I'm deliberately making it a more integral part of my daily life now and I'm very pleased with the results :-)
About a dumb boy
About a viceroy
" Maybe also there's this textile fixation or attraction to the way a pen gliding on paper feels or the sound of clicking keyboard keys that compels a writer to write. I'm feelin that right now...also feelin like holding a smoldering cig between two fingers on one hand and twirling a revolver in the other in the middle of a desert gang with trademark red lips..."
I guess what I'm telling myself is that I need to be Azealia Banks circa
Liquorice
for a day or two.
Words can't describe how much I love this photo of the Shears twins.
Bessie Stringfield, "The Motorcycle Queen of Miami"—the first black woman to ride across the United States solo
These photos are going up on the coveted, monumental wall of inspiration in my room (mostly reserved for naomi but I digress) because the women in these photos possess such a carefree, rebellious spirit. As black women we are often put into a box--we become stuffed into the "angry, sassy black woman" archetype and suddenly that becomes the only thing black women are capable of being. So, I love these photos of the women surfers, Bessie Stringfield, and Eartha Kitt not only for their artistic beauty but for their inspiring and gratifying capturing of black women being themselves, veering from what's expected, and just living.
Eartha Kitt doing yoga by the ocean
This rebelling spirit is also heavily reflected in TV on the Radio. Though I've just recently paid more attention to their music, I had heard of
TV on the Radio
in the past but never really got into them for some reason. As soon as I came across the new song "Happy Idiot" from their album
Seeds
though, it turned me into one.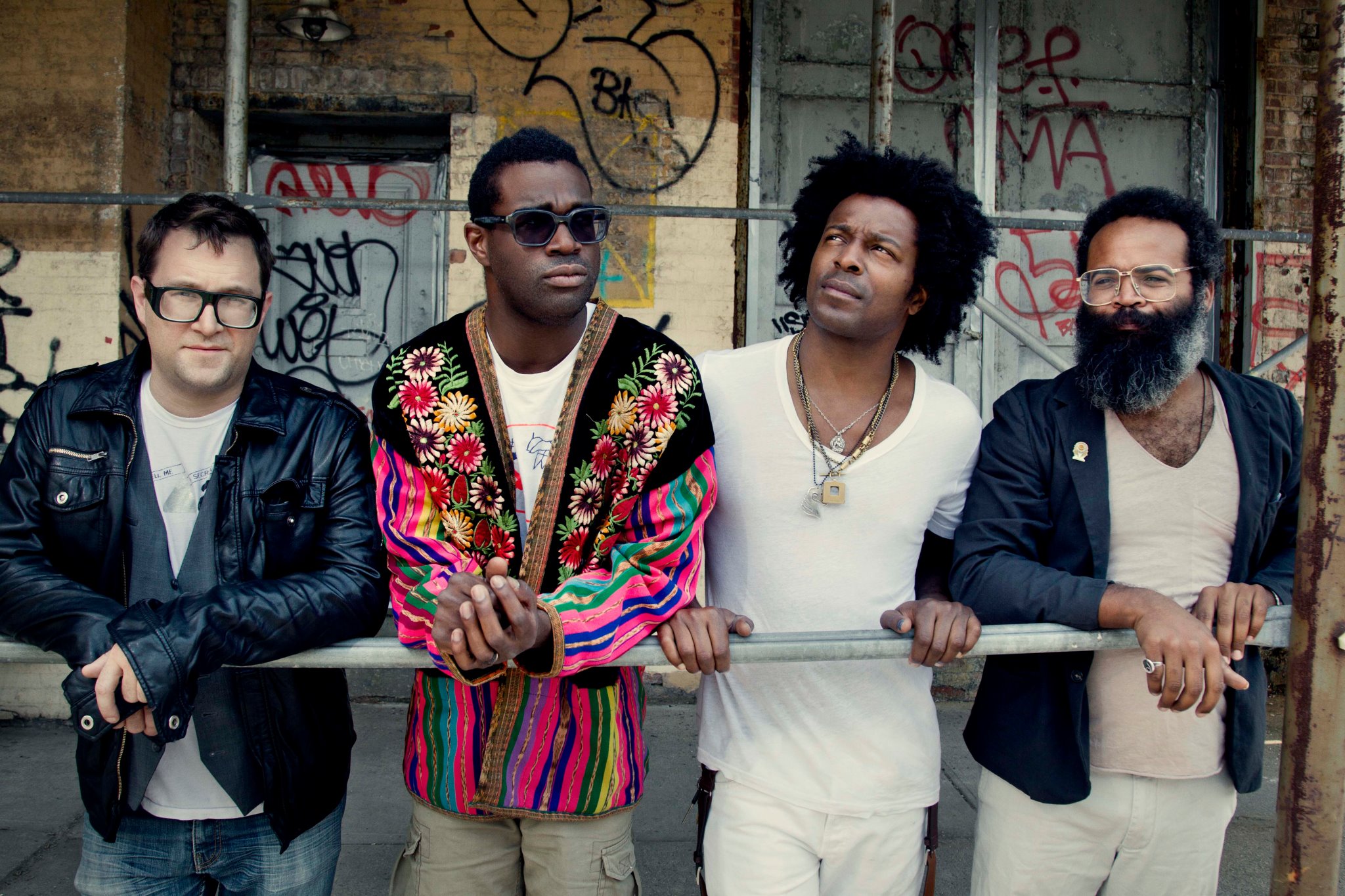 I've only now realized that I've said "happy" at least a billion times now, so I leave yall with a pretty cool song that fits the vibes and THIS PENSIVE PHOTO OF TV ON THE RADIO. I'M YELLING BECAUSE HIT ME UP IF YOU KNOW WHERE I CAN GET BABATUNDE'S (second from left) CRAZY CARDIGAN. OR ONE THATS SIMILAR THATS COOL TOO.
ciao
xx
Kaylee