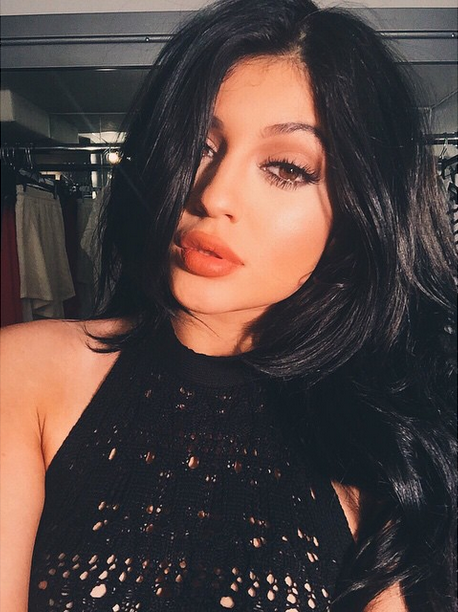 Why couldn't yall have done something meaningful like the
chubby bunny challenge
??
Immediately, I can think of an infinite amount of better things to do than purposefully sunctioning my lips off into oblivion. Things like stuffing my face into oblivion or reading every Rookie article at 2am until every word becomes a big, fuzzy blob :) The issue with the #kyliejennerchallenge isn't Kylie herself. The problem originates from the controversy surrounding Kylie's sudden new look and the inherent racism embedded into the minds of too many adolescents who have taken part in this new internet trend.
THE LOOK
Not too long ago, it seems like everyone took notice of Kylie's different set of voluptuous lips. The left column is how she looked before, and the right column is how she looks now.
Amazing, before and after. Though Kylie is on a reality show and her family has been a hot spot for the media ever since the infamous Ray J incident, the amount of media attention Kylie has been directly receiving has sky rocketed. Mass criticism of her drastic new appearance and accusations of getting lip injections have clouded much of the internet. Kylie claims that the change in her lips are due to a lip liner technique she's employing *insert frog sipping tea*, so we may never know how she's achieved this look, but the surplus amount of adult reporters, gossip columnists, etc. who have been OBSESSED with a 17 year old's lips (ew) should ask themselves why they care so much. And, at face value, why should the rest of us? It's just a girl experimenting with her look. Let ya girl live! Or is it something so much deeper than that? It's evident in her apparent raging fixation on obtaining features naturally seen on black women, fetishing black men, and silence regarding black culture when it gets real. In the intelligent
"Don't Cash Crop My Cornrows"
, I think Amandla says it best with,
"

What would America be like if we loved black people as much as we love black culture?"
INTERNALIZED RACISM
In the #kyliejennerchallenge, the participant has to get a small bottle/cup (e.g shot glass, medicine bottle, etc), suck into it for 20 seconds and release. After the process has been repeated enough or completed until it has a noticeable effect, the person's lips blow up. Seriously. It's interesting because black people get dragged through the mud and become the focus of a lot of racist satire for their naturally full lips, natural hair, and natural features, but then somehow the script is flipped when a white person does it. When some BRAVE white person tries to obtain what black people are made to feel ashamed of, suddenly the feature becomes not only desirable but acceptable. Hence, the hoard of people taking part in the Kylie Jenner lip challenge (because, y'know, she invented full lips.) They laugh and cower at the new lips they have given to themselves which is an underhandedly racist act that takes another jab at common features associated with being black.
Then we have this photo shoot that preceded the lip challenge. At first glance, I immediately thought of a more galactic look, but then I thought about it and realized that she's doing blackface. I read some of the notes on tumblr and everyone else was seeing what I saw: the costumy display of darker skin. You can't ignore the repercussions that come with having dark skin in America, so for someone like Kylie Jenner and whoever played a part in this shoot to exploit dark skin for pure aesthetic purposes and then to deal the "It's an art form, a form of artistic expression" card is tired and disrespectful. Dark skin is not a fashion piece that you can dispose of or something to experiment with. It's indicative of a rich culture with many achievements and moments of preservation as well as an oppressive societal history and a likewise present.
?¿?¿?¿ EW and WHY
As if black men are pure objects in which the darker they are the more they just HAVE to have them, here Kylie and her sister go fetishizing them in a way that makes them accessories to boost their street cred. It's racist and manipulative of the psyche of black people, especially black men in this case, when these white women in particular are putting them up on this superficial pedestal for what is really only selfish reasons.
Ugh. To detract from the blatant racism and repulsion that is Justin Bieber in this vine, here's an Alabama Shakes song because I saw them perform at Coachella on TV and they were electric, especially leading lady Brittany Howard <3


~Stay woke babes~
xx
Kaylee